Hi, I'm Hillary Marra, The Edible Gardenist™.
I show families how to eat healthy, take the daily stress out of family meals, and provide families with DIY activities to bring love, pride and joy into their family food. I also educate and consult in the area of edible school gardens, and have programs that fit large and small needs.
While working in the corporate world, I felt my light going out. The high point of my day was lunch; I came alive whenever anyone asked me what I brought, how I made it, and—the biggie—how I didn't ever fight with my kids about food.
And so I began teaching what I knew. With my kids on one hip, skillet on the other, I started teaching cooking to kids and coaching moms how to stop their family food juggle and struggle, have their kids eat healthy, and bring everyone together to enjoy family food.
Over twenty years later, I've grown my programs into The Edible Gardenist™. Join me in my garden and kitchen playgrounds, learn to bring peace and pleasure to family meals, enjoy food with your children and explore a garden-to-table lifestyle.

Bio
Hillary Marra creates edible school gardens, teacher training and family garden to table programs for schools, families and communities. She has taught edible gardening and cooking to thousands of children, educators and families for over 20 years.
Hillary has founded and directed edible school garden programs for toddlers, preschoolers, elementary, middle and high school students throughout New York, including a garden-to-table cooking internship for high school seniors.
Hillary trained at Stone Barns Center for Food and Agriculture and has received recognition by Cornell Cooperative Extension. She was the Family Food Solution speaker on Assemblywoman Sandra Galef's televised program, "Panel on Childhood Nutrition" and UJA Federation's, "Raising Healthy Children". Hillary has trained Preschool Directors and Educators at the Westchester Association of Young Children's Annual Conference and The Jewish Education Project's, "Every Blade of Grass" Conference, as well as the National Directors at Girl Scouts of the USA's Healthy Eating Forum. Hillary has been a contributing blogger for the JEP's In-Site-Ful Journey blog and has published in the Juvenile Diabetes Research Foundation International's, "Countdown for Kids" Magazine. She was featured on Fox 5's, "Street Talk," for leading 100 teens to build an edible school garden on Long Island, in response to Hurricane Sandy.
Hillary lives in New York with her family.
Testimonials
"Having Hillary Marra as our Garden & Food Consultant on staff enriches the lives of our young children, their families, and our staff while working toward establishing healthy eating, proper nutrition and recipes for wholesome cooking."
- Ann Pardes, Director of Early Childhood Education, Rosenthal JCC of Northern Westchester
"For my senior internship in High School, I was lucky enough to do the Garden Internship with Mrs. Marra. It consisted of working throughout the community in different gardens, not only teaching younger grades about the importance of healthy eating, but also showing them how easy and realistic gardening really is.
I have never been around someone who is as passionate as Hillary is about the work she does. It was never just about planting or weeding or chopping, it was about learning techniques and having an understanding of the importance of everything we were creating. Never have I seen her without a smile on her face and the attitude that it's not just about the product, but more about the process.
I enjoyed every second of the internship and have become great friends with Mrs. Marra because she cares, that's who she is."
- Mark D., High School Senior Intern, Class of 2016
"Temple Beth El Early Childhood Center is very fortunate to have Hillary Marra as our garden specialist. Both the children and teachers adore her and look forward to garden time where they can plant, harvest and explore. Every visit, begins with a garden circle where Hillary provides a provocation to get the children thinking about what they're going to do next. Then, the children move into the garden where Hillary encourages them to dig in the beds, plant vegetables and flowers and touch and smell the herbs. Hillary has a vast amount of knowledge and teaches not only the children about the garden but the teachers as well. Garden time is a very special time at our school and we owe that all to Hillary and the wonderful work she is doing with our children."
-Hope Blauner, Director, Temple Beth El Early Childhood Center
"I initially contacted you after I had gotten desperate with regard to my son's unwillingness to try new foods and pickiness with the foods he was willing to eat.
Our sessions were very informative and thought-provoking. You help your client really understand the food issues that are going on in the home.
My son (and our whole family) has benefited from your time and efforts by becoming better, more diverse eaters. We continue to enjoy cooking together and have tried the recipes you shared with us. This summer, we look forward to a successful vegetable garden based on some of the good planning ideas you had for us.
You truly have helped our family succeed in eating better and happier."
-Coleen MacGreevey, Mother
THE EDIBLE GARDENIST™ FOR SCHOOLS
I provide consulting and professional services to educators and administrators. My school garden programs will teach them to implement garden-to-table activities in their schools year-round.
What you'll get
Educators will learn how to start their own school gardening programs. Through these programs, students will develop an awareness of how to nourish themselves with homegrown food, all while relaxing and playing in nature.
The Edible School Garden Experience
Plan
Grow
Harvest
tastE
learn…and ENJOY!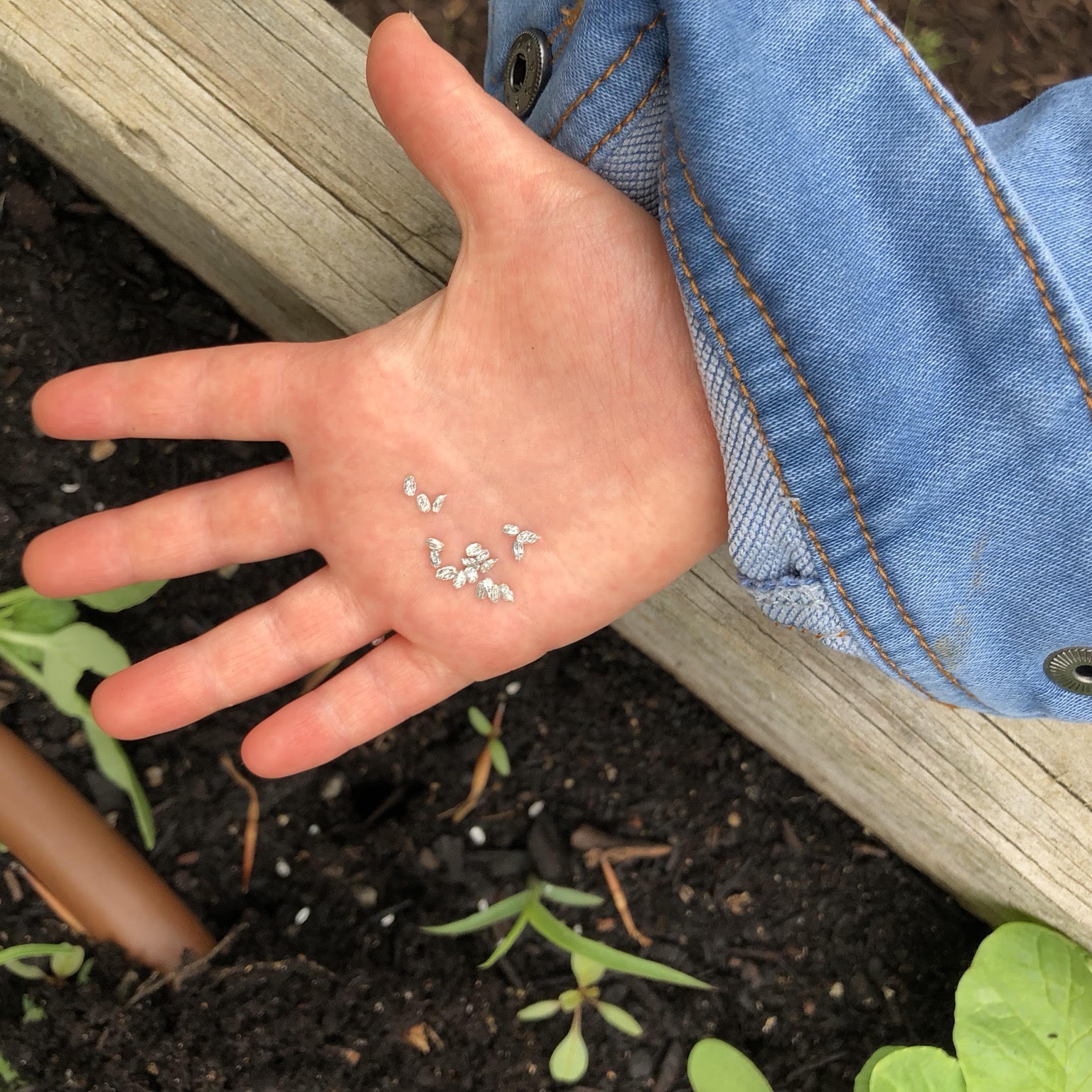 THE EDIBLE GARDENIST™ FOR FAMILIES
I believe we want more with our family food - more than the daily juggle and struggle of what's for dinner and trying to get our kids to eat healthy. I believe we want to grow, gather, cook, laugh, linger, connect and enjoy our family food together. Through my multimedia family programs, I will teach you to develop a DIY garden-to-table lifestyle in your own home—so you can get something more from your family food.
what you'll get
With hands-on activities, your family will develop a better relationship with the food they eat. Children will learn where food comes from and feel good about themselves in the process. My programs will provide your family with an opportunity to slow down, relax and connect around family food.
The Family Garden-to-Table Experience
grow
gather
linger
connect
cook…and enjoy!

Ready to Work with Hillary?
Let's Plan an Edible Garden for Education, Inspiration and Happier World